Exxon Mobil Corporation (NYSE: XOM) stock has had quite a journey on its way to its historical highs. What the stock is doing can best be described as a resilient charge, and it has momentum on its side. In fact, it has had a flying start to the year with a 38% rise to its current price. Can momentum drive it even higher?
Source: Raymond Kotewicz
What Has Happened?
Since the stock bottomed out in 2020 at $30, the lowest level since 2002, things have looked rather bullish for it. It headed straight for the $81.5 – $84.5 resistance level, challenged it twice, before finally breaking out of it on the third trial.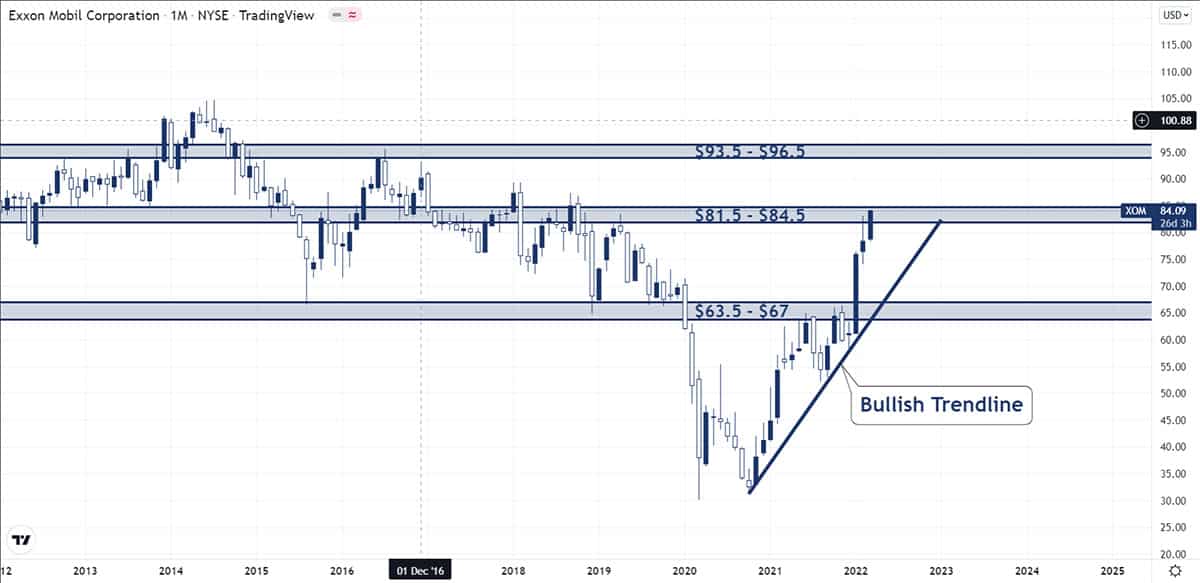 The stock now finds itself 178% above that $30 low.
So What?
Whether the breakout of the $81.5 – $84.5 resistance level would happen right now is what we don't know for sure. As it is, the stock is far away from the bullish trendline that underlines it, or the closest significant support level at $63.5 – $67.
Besides the bullish trendline that formed underneath the price, perhaps the more critical trendline on the XOM chart is the resilient bearish trendline from which the stock broke. The trendline has hovered over the stock for seven years and has been tested six times during the period.
A slight retest of the bearish trendline appeared on the weekly chart, which officially put XOM in bullish territory.
Should You Buy Exxon Mobil Stock Now?
Not yet. Although we hold a bullish sentiment for it long term, we recommend you hold Exxon Mobil stock for now. But you can buy the stock as soon as it breaks out of and retests the $81.5 – $84.5 resistance level.
Suppose this breakout doesn't happen and the stock returns below the resistance level. In that case, we recommend you hold until it finds support at any of the bearish trendline, the bullish trendline, the $63.5 – $67 support level or the minor support that has developed around $75. Then, we re-analyze what the stock's price action has for us.